Renaissance of the Home Movie Theatre
Your cinema experience redefined at home.
We watched movie theatres all over our country close due to COVID-19, many of those venues will never re-open for various economic reasons. With those closings, we've also seen the comeback of the Drive-In, a cultural relic of the 20th century. There were over 300 drive-in theaters throughout the US as of October 2019 and those that are able to reopen have social distancing restrictions in place. This is a great way to get out of the house and see some entertainment. A more modern resurgence has been the Home Movie Theatre Room. With streaming of all things digital, many technologies have innovated to support interactive viewing. Who doesn't relish a night in pajamas, popcorn, pizza, etc. on a comfortable sofa or reclining chair under your favorite blanket?? AND you get to hit pause for bathroom breaks! Let Epic Smart Home, serving California, Nevada, Texas, and Hawaii, help you create or renovate your dream Home Movie Theatre!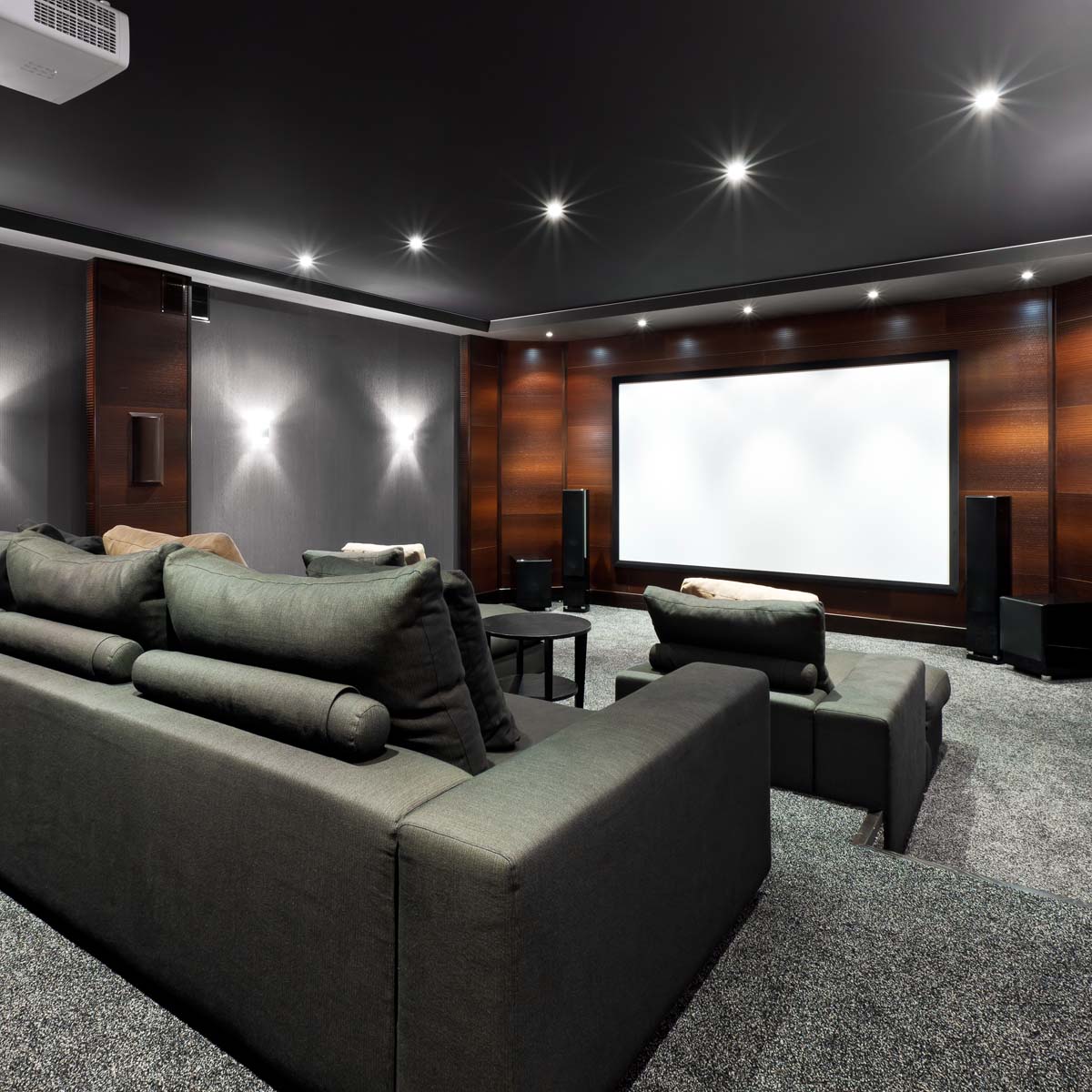 Surprisingly, Universal Studios and other production companies have found that revenue from digital streaming platforms have only been slightly lower, and potentially made just as much money as they would've at live box office releases out on tours--this happened in April when the Trolls sequel was released direct to streaming digital platforms. This is a sign of things to come, similar to what happened to the music industry. When Apple iTunes came on the scene with digital music downloads, CD sales went down, and record stores went out of business. But revenue went up for both the artists and the studios because they lowered the barrier to entry by lowering the cost, meaning more people had the ability to download more songs. More closely related to the movie industry, is the fall of Blockbuster stores now that VHS & DVDs are no longer needed. Netflix transformed the video distribution industry in a very clever way. When they started out, instead of having the costs of a brick and mortar store they began by sending DVDs through the mail. As high bandwidth broadband internet became more readily available, they transformed the distribution industry once again into the Netflix streaming media services we know today.
We are ushering back in Dolby Digital with old school surround sound, turning those amps up to 11--uh, not quite. Don't go out and dust off those massive amps, speakers or screens. As the adage goes that size does matter, technological innovations have slimmed down, but the experience is still expected to be significant. Get those digital downloads off those tiny phone screens and get them up on beautifully framed TVs or a TV wall with multiple viewing screens. Install in-ceiling speakers and hide necessary equipment out of sight--gone are the days of wires! Let's introduce a whole new generation to all that a home theater can be--from backyard inflatable screens, bluetooth speakers & pocket-sized projectors to state-of-the-art Home Movie Theatres, rivaling the experience you can get at the movies. The cinema is being redefined and companies like ours and clients like you will be a part of what that future looks like. Contact Epic Smart Homes for a free consultation on how we can help upgrade your current setup or introduce you to a whole new one!

No video selected.